Lujeri Tea Estates grows and processes high quality tea on its estates under the imposing Mount Mulanje the highest point in Malawi

Its tropical location and superior cultivar plant varieties produce excellent quality teas that are unusually high in health promoting anti oxidants.

The company's commitment to consistent quality and reliability of supply has secured for it customers who blend tea in the UK Western Europe the USA and Eastern Europe.

Tea was first planted on the estate in the late 19th Century and it was at various times owned by Lyons, Brook Bond and Unilever before acquisition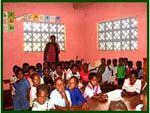 in 1996 by the present owners, the London based PGI Group Ltd.

PGI Group Ltd has other agribusiness interests in Malawi, Zambia and Zimbabwe that grow, process and export top quality tea, Macadamia nuts, cut flowers and vegetables.

Lujeri exerts a significant influence on the lives of a very large number of people in the local community and this influence is evaluated on a continuous basis to ensure that it is increasingly beneficial to all.

In 2008 the smallholder farmers whose tea Lujeri processes, were certified as conforming to Fairtrade standards for small farmers organizations. The farmers' community will benefit from the significant Fairtrade price premium paid for such certified tea standards.