Maintaining high production and product standards have always been important at Lujeri.
The company is confident that customers (tea blenders) and the final consumer can use Lujeri products with complete confidence as far as quality, hygiene and health are concerned.
Our own internal quality management system and adherence to HACCP fundamentals ensures that a safe quality product is produced.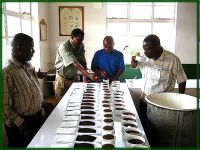 Quality of leaf is monitored at all times and the processes, factory environments and other variables measured and adjusted constantly. Tea is tasted in the factory at hourly intervals by skilled and experienced tea makers.
In addition to these internal control procedures, Lujeri subscribes to and has been or will be inspected over the next six months by the following organizations:
Ethical Tea Partnership
Unilever (Rainforest alliance)
UTZ
Malawi Bureau of Standards
Fairtrade.

Smallholder farmers were granted Fairtrade certification in September 2008.